The woman behind the artist
Lawyer by profession, renowned photographer and a young mother, Barbara Cox is a Belgian painter living in Walloon Brabant.
Her dreamlike and colorful universe is an enchanted garden.
Barbara seeks to amaze, to make you happy.
Ever since her childhood, Barbara has been wrapped up in the love of art.
"Dragged" by her parents from one exhibition to another, from yet another museum to another art gallery, her taste for painting, and particularly abstract and colorful art, was not a coincidence.
Throughout her childhood and adolescence, the young Barbara practiced classical dance with passion. She trained her eye there, discovered the great artistic movements and opened herself to the freedom of spirit inherent in art and artists.
From the ages of 7 to 12, Barbara took drawing classes that educated her hand and her eye and taught her how to master her lines.
Confined during the Covid epidemic, Barbara will unconsciously reactivate this means of defense and thus launch her career as an artist.
Refractory to science, the artist decided to study law at university, which led her to the Brussels Bar, as a lawyer specializing in family law. Dance, photography and drawing allow her to free her stifled creativity. Fashion sketches fill her notebooks, a universe that fascinates her more than the law. She dreams of being a fashion designer, she loves anything that brings beauty and happiness.
But the dream is not enough for this independent, enthusiastic and energetic young woman who wants to devour life. Very quickly, Barbara hangs up her lawyer's dress and becomes a reference of the wedding photography. The wedding is a bubble of beauty and happiness, a day of enchantment for all in which the photographer blossoms completely.
Unfortunately, the Covid-19 invites itself as a spoilsport and the confined hyperactive seeks an outlet. Barbara thus takes out her old paintbrushes to brighten up "the white walls of her new home". In reality, she seeks to cheer up this shrunken and anxiety-ridden life and paints an invitation to dream and joy to resist the fear of the world.
Born in a process of re-enchantment, her art was an immediate success and never ceased to amaze.
Her artwork is present in many countries and is already part of private collections. Barbara takes part every year in contemporary art shows in Belgium, France, Switzerland and Great Britain.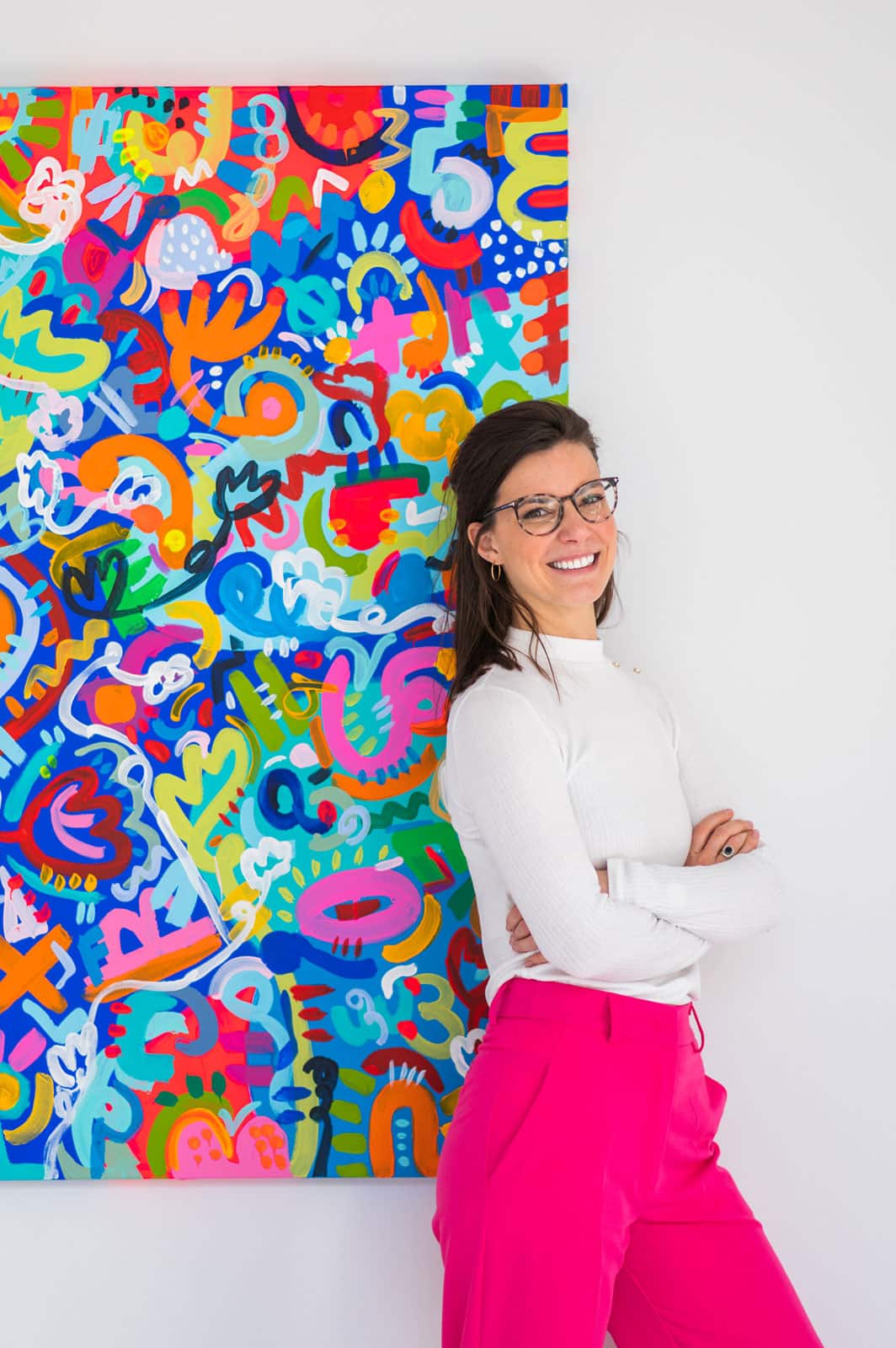 Your favorite artist?
I cannot limit myself to only one! I like Nikki de St Phalle and her "Nanas", Jackson Pollock and his abstracts, Pierre Alechinsky for my Belgian roots and Matisse and his dancers.
Your essential for creating?
To lock myself in my studio in complete silence, to extract myself from all my thoughts and let my mind and my hands do the rest.
A simple way to describe yourself?
An unconditional lover of life!
Your favorite quote?
"Let your dream devour your life, not your life devour your dream" by Antoine de Saint-Exupéry.
Your sources of inspiration?
The human being and nature! Everything stems from them.
Your artistic obsession?
Harmony.
The role of art according to you?
To arouse emotions.
The role of your art?
Bring joy, free the imagination, make people dream!