«To create for me is to enter a world where reality no longer exists, where I can stretch it like paint that spreads out of the frame and let it find its way onto the canvas.»
An artistic signature recognizable at first glance. A unique style that surfs on Pop Art to embrace a new abstract. A dreamlike, enchanting and lighthearted universe.
Each of Barbara Cox's art pieces is an invitation to travel to the mysterious world of dreams. The artist creates an abstract canvas of enchantment and liberation of the imagination where colors speak to each person's own story.
Color in Cox's work is vibrant, vivid, joyful, without nuance, it gambols across the canvas full of energy and, breathless, lies down in a wonderful garden.
The relief invites itself like the icing on the cake giving the spectator the irresistible desire to touch.
The only serious thing about Barbara Cox's work is the resolution not to take herself seriously!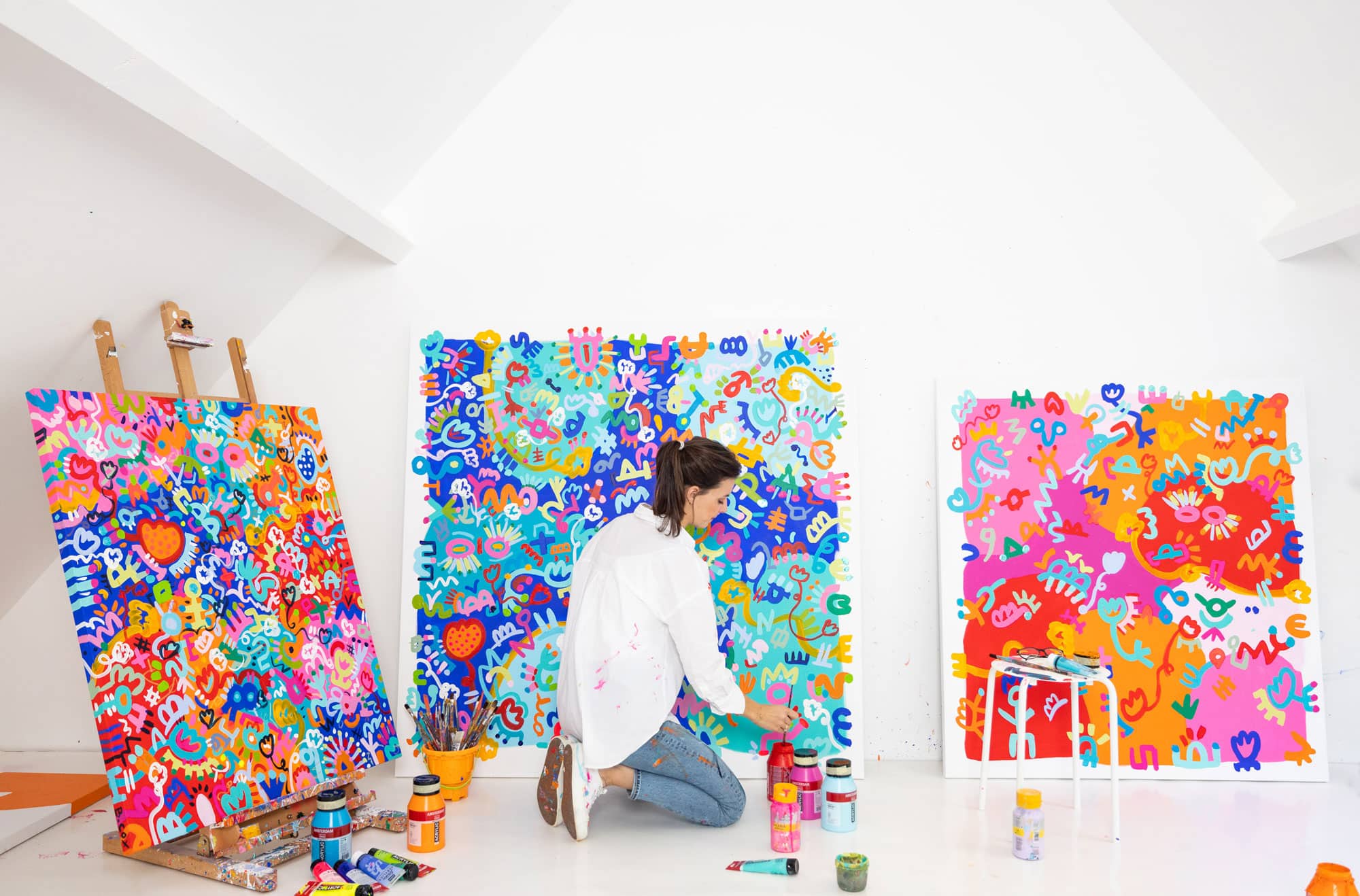 «I wanted to revive the wonder of childhood,» says Barbara when asked about the carefree, lighthearted, almost regressive side of this series of paintings called «Gardens of Dreams».
The artist does not plan her painting. Her hand is guided on the canvas by her profound intuition. In the silence of her studio, she enters a world where reality no longer exists to tell us the story of a dream.
She paints strawberries, flowers, spermatozoa, flying saucers and many other things that the viewer's imagination will recognize!
Each canvas becomes the secret garden of the viewer.
In this generous abundance of colors, shapes, sounds and symbols, we go in search of these little characters, the Barb'Happy, who inhabit the canvas and are the guardians of happiness.
Acrylic and oil pastel on canvas.
In contrast to the sparkling effervescence of the « Garden of dreams », the theme «Harmony of life» is an abstract representation of the search for harmony that leads to beauty and balance.
Luxury, calmness and voluptuousness fill sensual and docile shapes, which intertwine and dance on the canvas in a rhythmic and joyful choreography that captivates the viewer.
If intuition leads this dance, his hand is guided by absolute concentration to obtain a precise and perfectly smooth line. Barbara paints each shape directly onto the canvas. The sketch comes alive when she fills it with color, the patterns swinging casually before our eyes reminding us that with Cox, even harmony has a sense of humor.
Acrylic and oil pastel on canvas.